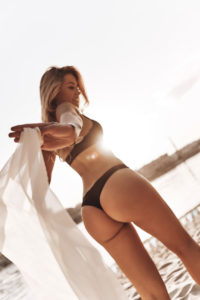 Summer is here, and that means we may be treated to the sight of beautiful beach bodies more than we'd like. If you find yourself noticing the beauty of contoured backsides wherever you go, consider yourself a part of the club. So many people are admiring the derriere these days that the Brazilian Butt Lift has become one of the leading cosmetic procedures among women. Don't count men out, either, as many have taken the step of adding a little cushioning in the right places to suit their physique.
Because the Brazilian Butt Lift is so popular, it is important that information be readily available. If you're considering the merits of this two-in-one cosmetic surgery, we'd like you to have all the facts you need.
Put your assets in the hands of a Pro. A true Brazilian Butt Lift is a delicate surgical procedure that involves removing an appropriate amount of fat from an area such as the thighs or abdomen and introducing prepared fat cells into specific areas of the buttocks. Injectable substances other than your own fat do not achieve the best results. In some cases, injectables obtained by unqualified practitioners have put patients' well-being in danger. Dr. Tehrani is a board-certified plastic and reconstructive surgeon who has performed thousands of successful cosmetic procedures.
Time your treatment right. The purpose of a Brazilian Butt Lift is to enhance the backside with fat cells. We want as many cells as possible to survive their transplant. The way this gets accomplished is by avoiding sitting. That's right. A full eight weeks of limitations around sitting (no sitting directly on your backside). Timing should allow for two weeks off work and potentially shorter work days, or at least less sitting, after that. How do you sit after a BBL? On a donut pillow.
Built a support team. It is important to remember that BBL is a two-in-one procedure. The first step involves liposuction to extract the fat cells we need to round out the buttocks. Then, these cells are inserted at various depths of tissue in order to create the perfect contours. While most people consider what it's like to recover from the transfer of fat, few remember that they will also be recovering from liposuction. For at least the first seven days after surgery, the priority should be on healing and rest. The more people you can count on to help with meals, children, pets, and other obligations, the better.
Would you like to know how a Brazilian Butt Lift can give you the body you want? Call 760-240-2444 to schedule your consultation with us in Laguna Beach, Palm Springs, or Apple Valley.