SAFELipo BBL (Brazillian Butt Lift)
Consultations offered at our two convenient locations in La Jolla, CA and Apple Valley, CA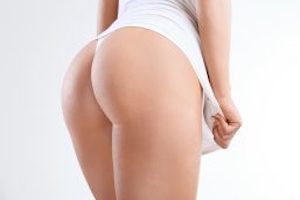 There's a new way to boost your bottom.
A Brazilian Butt Lift with SAFELipo technology will enhance your booty while safely slimming you down. SAFELipo tightens sagging skin and harvests fat to redistribute to your backend assets. Dr. Ali Tehrani isn't a magician, but he is a Board Certified Plastic and Reconstructive Surgeon with an artist's eye for detail. So, eliminate those love handles. Say good-bye to that muffin top. All while enhancing your backside? It sounds like magic. But it's better. It's science!
Dr. Tehrani's toolkit includes the latest advancements in technology. His steady, trained hand is guided by a knowledge of advanced surgical principles and his love for art and beauty. Dr. Tehrani's greatest joy is using his talent to improve people's lives. His practice spans Southern California, with locations in Apple Valley and La Jolla. Direct your inquiries to Tehrani Plastic Surgery and schedule a consultation to learn more. 
Before and After Photos
About
From the beaches of Rio de Janeiro comes the hottest aesthetic trend in the USA. Celebrities and social media influencers have put the behind front and center. It shows: BBL is one of the most researched and reviewed cosmetic procedures on the Internet. A Brazillian Butt Lift removes unwanted fat by way of SAFELipo. Some of this same fat is then relocated to the backside. This results in a rounder, fuller butt that is custom-tailored to the patient's individual goals.
A key advantage of the BBL is that it grafts your own fat tissue to give you a boost in the caboose. When J.Lo and Kim Kardashian first wowed the world with their majestic glutes, butt enhancements using silicone implants proliferated the market. The Brazillian Butt Lift is a superior enhancement procedure there is no opportunity for an allergic reaction to your own tissue. The results are natural-looking. And a side benefit is that the fat-harvesting step of the procedure improves the contours of the donation site. So you can add volume where you want it while you take it from where you don't.[1]
BBL Benefits
A bigger, fuller, beach-ready booty
Comprehensive enhancement removes fat from unwanted areas
Your own fat tissue is used, minimizing complications
Natural-looking results
What is SAFELipo?
The "SAFE" in SAFELipo stands for separation, aspiration and fat equalization; it describes the process the remarkable SAFELipo device employs to remove excess fat from unwanted areas of the body. The procedure is by itself a useful body contouring option. The doctor inserts a cannula wand by way of incision to remove fat from a target area. SAFELipo represents some of the latest advancements in liposuction.
SAFELipo has been shown to produce smoother, evener results than traditional liposuction.
Recovery time is reduced, too, because there is less disturbance to surrounding tissue. The procedure begins when the patient is safely sedated.
In the "separation" stage, the special probe enters the target area and, with its exploded tip, gently vibrates while fat globules are separated and emulsified. Some variations of liposuction use heat to loosen fat which may affect the adjacent dermis and lengthen recovery time. SAFELipo does not employ heat, thereby avoiding these risks.
Next, in the "aspiration" stage, excess fat is removed using light negative pressure. SAFELipo is different than other techniques because it has already softened the fat deposit by this stage of the procedure. The unwanted cells are easier to remove, reducing the overall stress to their surrounding tissue. Finally, in the "equalization" stage, the fat left behind is smoothed over for long-lasting, optimal results.[2]
Benefits of SAFELipo
The separation step loosens and emulsifies fat for easier removal
Vibration is used rather than heat for safer separation
The equalization step creates smooth aesthetic results
Harvested fat can be used to enhance other areas, as in the SAFELipo BBL
Results
Dr. Tehrani has a background in both art and medicine. He understands that aesthetics are all about balance. Since ancient times, sculptors have understood that people are naturally drawn to symmetry and find it beautiful.
SAFELipo BBL encourages symmetry in your body by harvesting fat from unflattering areas and using it to augment your big, beautiful behind.
SAFELipo BBL creates a lifted, youthful look. Not only that, but the procedure also minimizes the appearance of cellulite. SAFELipo BBL brings your own fat distribution into balance, so it's more natural than the alternatives. The size and shape of your hypnotic new booty will not be limited by the availability of certain implants, either. This allows Dr. Tehrani greater creative freedom to precisely sculpt the butt you want.
SAFELipo is the Better Brazillian Butt Lift
Like the best doctors and artists, Dr. Tehrani chooses his tools with the utmost thought and care. SAFELipo truly is the safer way to go when getting your Brazillian Butt Lift. In SAFELipo BBL, the fat transfer is injected subcutaneously, rather than into the gluteus muscles. The unique cannula employed in SAFELipo does not have sharp edges, nor does it produce any heat. This eliminates many of the issues raised with other liposuction procedures.
Complementary Procedures
Many women choose bespoke packages of complementary procedures to add on to the already comprehensive results of the SAFELipo BBL. This will not only maximize the results of your transformation but also minimize the costs and downtime associated with it. The Brazillian Butt Lift is often incorporated into a "Mommy Makeover" package, which is a whole suite of complementary procedures aimed at "bringing your sexy back" after pregnancy.
Brazillian Butt Lift Complementary Procedures
Investigate these and other procedures for yourself by reading our blog.

Aftercare
Full recovery from a Brazillian But Lift can take up to six weeks. During that time, some discomfort is common as your new butt heals and takes shape. You will wear a compression undergarment during this time to aid the healing process.
Follow Dr. Tehrani's aftercare instructions exactly to ensure your speedy recovery and your desired results.
Dr. Tehrani advises against "the two big S's" for the first two to four weeks of your recovery: sitting and sexual activity. Both of these can put a strain on the surgical site and impede the development of new blood vessels in the fat graft. Healthy blood flow to the affected area will help the fat graft adapt to your body and produce more visible, longer-lasting results.

SAFELipo BBL Recovery Tips
Manage pain with prescribed medication
Use cold compresses on incision site, never hot
Avoid high impact activities (and bouncing) for the first month of recovery
Wear your compression garment as directed
Don't sit on your results for two to four weeks
Abstain from sexual activity for the first month
Reinvent Your Look With SAFELipo BBL
The results look like magic, but Dr. Tehrani doesn't have any tricks up his sleeve: just beautiful results! With his years of experience in plastic surgery and all the technical tools at his fingertips, Dr. Tehrani is a humble craftsman, helping to sculpt a better you. He knows that your best self is within you, waiting to come to the surface. But, like all great works of art, it is simply a matter of achieving the right balance to bring out its full splendor.
The majestic butt of your dreams awaits. And, while you're at it, let's eliminate those love handles and that muffin top, too. SAFELipo BBL offers enhancements in all the right places. Schedule a consultation at Tehrani Plastic Surgery to learn more.
FAQ
What are the benefits of a Brazillian Butt Lift?
A Brazillian Butt Lift procedure harvests fat from unwanted areas and uses it to enhance the size of your bottom. It creates a natural look and feel while eliminating sagging and cellulite. 
What is SAFELipo?
SAFELipo is a three-step process designed to maximize the results of liposuction while minimizing risks. "SAFE" stands for Separation, Aspiration and Equalization—the process by which SAFELipo achieves its smooth, even results with minimal recovery time. 
How is SAFELipo better than other forms of liposuction?
SAFELipo uses a revolutionary cannula design that minimizes the potential for tissue damage during liposuction. The cannula gently vibrates, rather than producing heat, which can burn skin tissue. Also, there are no sharp edges on the cannula wand, avoiding difficulties that may be created from puncturing muscle and blood vessels. 
Why should I get SAFELipo BBL?
A Brazillian Butt Lift will noticeably improve your curves in your lower body. It will also help clothes fit more attractively as many styles are cut to accentuate the look of a nicely lifted butt. It draws fat from the hips, thighs and belly to create a perfectly pleasing behind. 
How can I best complement my BBL?
Many women opt for breast augmentation or a tummy tuck to help emphasize the results of their Brazillian Butt Lift. A BBL can be included in a "Mommy Makeover" package, which combines procedures like liposuction and labiaplasty to refresh a woman's overall appearance following pregnancy.   
References
Cansancao, A. L., Condé-Green, A., Rosique, R. G., Rosique, M. J., & Cervantes, A. (2019). "Brazilian Butt Lift" Performed by Board-Certified Brazilian Plastic Surgeons. Plastic and Reconstructive Surgery, 144(3), 601–609.
Odunze, M. (2019, March 30). Step by Step Guide to the Brazilian Butt Lift. Retrieved November 15, 2019, from https://www.verywellhealth.com/how-is-a-brazilian-butt-lift-done-2709831.