Brazilian Butt Lift
Consultations offered at our two convenient locations in La Jolla, CA and Apple Valley, CA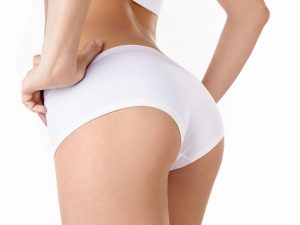 Have you always dreamed of a rounder, fuller figure? Are the years weighing down your backside? Do you wish your buns were firmer and more pronounced?
If you answered yes to any of these questions, then you may want to consider a Brazilian Butt Lift. Your curves should match your attitude. When you turn your back, you want to turn heads. Dr. Tehrani can help. With convenient locations in La Jolla and Apple Valley, we put the so cool in SoCal. Book a consultation with Dr. Tehrani soon!
About the Brazilian Butt Lift (BBL)
We all have fat deposits, but sometimes they aren't in the exact places we want them to be. To reposition your rump, we start by removing excess fat from above and around the buttocks. Autologous grafting is the art of relocating unwanted fat from the belly, thighs, or hips to another part of your body.[1] In this case, we will use your own fat to reshape your rear end.
There are three methods that we can use to successfully augment your butt:
Brazilian Butt Lift
To change your profile from saggy to spectacular, our expert doctors can contour your posterior. By trimming down your waist with liposuction, we accentuate your butt by comparison. But that's just the first step. We then use the fat we removed via liposuction to add to your backside. This essentially lifts and defines your buns using your own body's material.
Gluteal Implants
If you are too slender to contribute substantial fat deposits to the BBL process, you may need implants instead. Gluteal implants are crafted to fit your measurements. They are situated 4cm from the centerline of your buttocks. Implants generally swoop up and inward to promote a "lifting" dynamic.
Combined Gluteoplasty
For the best of both techniques described above, consider a combined approach[2]. After contouring your midsection with liposuction, your fat reserves are bolstered by the supportive help of gluteal implants. Together, the natural material from your fat deposits and the implant work to buttress your behind. Dr. Tehrani can determine which specific approach you need during your office consultation.
Before and After Photos
The Benefits of a Butt Lift
The greatest benefit of a Brazilian Butt Lift is the overall aesthetic improvement you will notice. By removing fat from your "problem areas" and relocating it to your new, round buttocks, Dr. Tehrani can accomplish two goals at once. The liposuction process targets any bulges that you just can't seem to shed through diet and exercise. Then, the actual "lift" part of a Brazilian Butt Lift raises your posterior profile to new heights of satisfaction. If you live in Southern California, Dr. Tehrani can explain the wonders of a Brazilian Butt Lift during your next visit.
Candidates
Any healthy adult is eligible for a Brazilian Butt Lift procedure. If you are dissatisfied with the way your buttocks look or feel, then you may be the perfect candidate for a BBL.
For further discussion of all things cosmetic, take a look at our blog. We often cover the latest trends, techniques, and intriguing items related to aesthetic enhancement. Join the conversation before your first visit to one of our California clinics. Dr. Tehrani has a fascinating take on Brazilian Butt Lifts and he loves sharing his expertise with his clients.
Book Your Personal Consultation
Your butt should look great from every angle. That's why our comprehensive consultation assesses your physique in various positions.
Standing Up
While you are on your feet, Dr. Tehrani will take a look at the body areas that are good candidates for liposuction. Specifically, he assesses the trochanteric (hip) region, the supra gluteal area above the buttocks, and the subgluteal point where the buttocks meet the back of the thigh. It is important to get a sense of your standing profile before we progress to the next phase of our consultation.
Seated Position
Your continued mobility and comfort are important to Dr. Tehrani. That's why we will ask you to take a seat during your consultation. By analyzing how your contours react to sitting, Dr. Tehrani will get a better idea of how to approach your Brazilian Butt Lift procedure. The upper and lower gluteal limits will be noted and these measurements will be factored into the ensuing BBL strategy.
Preparation for Your Brazilian Butt Lift
Nicotine impedes the body's natural healing abilities, so please stop smoking in the weeks leading up to your BBL date. Dr. Tehrani may also advise you to discontinue taking certain supplements or anti-inflammatory medications.
You must not drive immediately following the surgery.
Speaking of meds, try to fill any prescriptions you may need before your Brazilian Butt Lift procedure. Ask a loved one to help, and please arrange transportation to and from our clinic on the day of the BBL operation.
Your specific preparation will be tailored to your healthcare history and wellness needs. Please follow Dr. Tehrani's instructions and ask his helpful staff any questions you may have. We all have the same ultimate goal: your complete health and happiness!
The BBL Procedure
You will receive anesthesia to assure maximum comfort throughout your procedure. Once you are sedated, the liposuction process will begin. The doctor will flood any unwanted fat deposits with tumescent liquid to loosen them. This softened fat is then sucked out using a cannula, or small vacuum tube. The cannula contours as it goes, providing a trimming effect to your hips, thighs, or stomach.
The fat removed during liposuction is then added to your buttocks to create an appealing silhouette.
Dr. Tehrani uses an extremely thin tube to minimize all incision points. These incisions are strategically placed so they will be concealed by your underwear or bathing suit.
Once the fat and/or gluteal implant is perfectly situated in the hindquarters, the area is sutured and cinched to tighten the buttocks. Dr. Tehrani is able to repurpose your love handles, belly rolls, or thigh bulges into a higher, fuller behind.
A Brazilian Butt Lift procedure typically lasts about three hours, but each case is unique. Dr. Tehrani delivers aesthetic improvements with precision and care, giving you the attention you need for as long as you need it. Great results are worth the wait!
Awake BBL
If you prefer to stay alert and aware of every facet of your Brazilian butt lift procedure as it happens, Dr. Tehrani can accommodate you. He offers awake BBL, a process that utilizes local anesthetic rather than general. Your inquisitive mind can be tapped in while the Tehrani Plastic Surgery team busies themselves beautifying you!
Recovery from a Butt Lift
In the two weeks following your BBL procedure, shift your weight to your thighs and hips whenever possible. Rather than sitting directly on your buttocks, recline on your side. During this time, avoid strenuous activity.
Treat yourself with the care and consideration you deserve!
Expect to take two weeks off work to enjoy the full effects of recovery. Dr. Tehrani may suggest using gentle compression garments to foster ideal circulation to the rear end region. After a few days, you might also be directed to take short, peaceful walks to promote proper blood flow. Please listen to your doctor.
Results
It may take a full month to enjoy the full benefits of your full, fabulous figure. Your body needs time to adjust to any transformation. The curves of your midsection will accentuate your new, round behind. Results may vary, but Dr. Tehrani's track record speaks volumes. Just take a look at the rave Reviews that satisfied clients have shared on our site.
Consider Other Procedures
Dr. Tehrani is well versed in many disciplines of body enhancement. During your consultation period, Dr. Tehrani will assess your needs and listen to your goals. While the Brazilian Butt Lift is a phenomenal option for many individuals, it may not be right for you. If you struggle with excess skin and fat, for example, a Body Tite procedure may work better than a BBL.
A Brazilian Butt Lift is designed to add fullness to your backside while a Body Tite treatment reduces volume and sagginess.
If you are displeased by the areas surrounding your butt, then a Thigh Lift might be the perfect option. Dr. Tehrani can remove dimples and ripples, creating a more slimming effect in the process. Just tell the doctor what you want and he can strategize the ideal ways to address your concerns.
How Much Does a BBL Cost?
Every procedure is different, as is every insurance plan. If your provider does not cover the cost of a Brazilian Butt Lift, please call us at (760) 240-2444. Our caring staff is willing to work within your budget to provide the best options at the right price. Visit our Financing page to find alternative payment options like CareCredit and Alphaeon. Dr. Tehrani prides himself on serving the needs of La Jolla, Apple Valley, and beyond. Cost should never get in the way of wellness and personal fulfillment. 
FAQ
How long does a Brazilian Butt Lift last?
The results of a BBL can last for several years or even decades. Liposuction removes fat deposits from your "problem areas" forever. When this fat is relocated to your buttocks to enhance your backside, the benefits are long-lasting. 
Where can I get a Brazilian Butt Lift near me?
Whether you live in Southern California, or are visiting from outside of the area, Dr. Tehrani can perform a BBL procedure that will add fullness and youth to your buttocks. Contact his offices in La Jolla and Apple Valley to schedule your consultation.  
Why is it called a Brazilian Butt Lift?
Back in 1996, Dr. Leonard Grossman, M.D. performed a televised butt lift procedure. This wildly new technique also became wildly popular. Although Dr. Grossman was not from Brazil, his patient was. The episode of this show was titled "Building the Brazilian Butt" and the name just stuck. To enjoy the look of a Brazilian Butt Lift from the convenience of Southern California, consult Dr. Ali Tehrani. 
References
Bellini, Elisa; Grieco, Michele P.; Raposio, Edoardo. (2017) "The science behind autologous fat grafting". Annals of medicine and surgery (2012). 2017 Dec; 24: 65–73. Published online 2017 Nov 10.
Cárdenas-Camarena, Lázaro M.D.; Paillet, Juan Carlos M.D. (2007) "Combined Gluteoplasty: Liposuction and Gluteal Implants". Plastic and Reconstructive Surgery: March 2007 – Volume 119 – Issue 3 – p 1067-1074.