Rhinoplasty (Nose Job)
Consultations offered at our two convenient locations in La Jolla, CA and Apple Valley, CA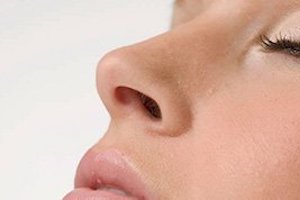 Rhinoplasty (nose job) is an operation to improve the shape and size of the nose so that it is in harmony with the rest of the face.1
Rhinoplasty is essentially a surgical sculpting of the nose and is accomplished by careful contouring of the bone and cartilage giving the nose its shape. At the same time deformities that cause breathing problems and some sinus disorders can be corrected. Most incisions are placed inside the nose where they are least visible (seamless rhinoplasty).
Rhinoplasty is performed under sedation with local anesthesia. The surgery takes approximately one and one-half to two hours. The use of "seamless" nose surgery allows for no visible external scars. With this type of rhinoplasty discomfort is minimized because no plates, tubes, or painful packaging are used.
Rhinoplasty is often an enhancement to facial rejuvenation, particularly in the correction of the aging nose (drooping of the tip). A significant "combo" effect is seen with facial augmentation in conjunction with cosmetic nasal surgery. 
In most instances, change in appearance can be seen immediately.
If you are ready to learn how a rhinoplasty can help you gain the confidence you've always wanted, call Tehrani Plastic Surgery today to schedule your personal consultation!
About Rhinoplasty
Rhinoplasty has the ability to change not only the shape of your nose, but also its functionality. A nose job may be performed in conjunction with other facial surgeries or procedures to rejuvenate the look of your facial features. If your nose was injured or damaged in an accident or you have difficulty breathing due to the size or shape of your nose, a rhinoplasty can address the issues, both practical and cosmetic, that you may be experiencing.
Septoplasty
A septoplasty is a nose surgery in which the piece of cartilage that separates the nostrils is straightened to improve breathing.2 A septoplasty can be completed at the same time as a rhinoplasty.
Benefits of Rhinoplasty
A nose job can have a number of benefits for you, depending on your personal goals. Rhinoplasty can enhance the appearance of your nose by augmenting the symmetry of your nose in relation to other facial features. Rhinoplasty can smooth any irregularities of the nose, change the tip of the nose, and correct breathing challenges by altering the functional structure of the nose. These benefits can improve your self-confidence and make you more comfortable by improving the functionality of your nose. 
If you are ready to experience the benefits of your nose job, contact Tehrani Plastic Surgery today to schedule your private consultation!
Candidates for Rhinoplasty
An appropriate candidate for rhinoplasty is any person who may be unhappy about the size and/or shape of their nose, has experienced defect, damage, or injury of the nose, or is experiencing difficulty breathing.3 These individuals are in good health and do not smoke. Also, people looking to have a nose job should consider the procedure for their personal satisfaction, not because of external pressures.
Rhinoplasty candidates are optimistic and have realistic goals and expectations of the surgery.If you believe you are a perfect rhinoplasty candidate, contact Tehrani Plastic Surgery today!
Rhinoplasty Consultation
Before any of the procedures performed at Tehrani Plastic Surgery, patients are scheduled for a one-on-one consultation with board-certified plastic and reconstructive surgeon, Dr. Ali Tehrani. Dr. Tehrani will be able to address your concerns and the details of the surgery in a private setting.
The consultation is your prime opportunity to ask any and all of your questions regarding rhinoplasty.
During your consultation, you will discuss your medical and health history with Dr. Tehrani, including any medications or supplements you may be taking. Dr. Tehrani will take several photographs of your nose and discuss a tailored approach to your rhinoplasty. You will be given preoperative directions in order to prepare you for your rhinoplasty surgery. If Dr. Tehrani believes your concerns about your nose may be better addressed with a different procedure or treatment that is suited to meet your goals, he will provide his professional opinion at this time.
You're ready to make a positive change in how your feel about your appearance; let Dr. Tehrani assist you on your personalized journey. Contact Tehrani Plastic Surgery today to schedule your consultation.
Rhinoplasty Procedure
Before your rhinoplasty surgery begins, you will meet with Dr. Tehrani to review your customized plan for surgery. You will be given a local anesthesia and sedative prior to your surgery to make sure you are as comfortable during the procedure. 
Rhinoplasty is usually performed over 1.5 to 2 hours. 
Dr. Terhani performs rhinoplasty surgery using a "seamless" method. In this technique, the incisions are made inside of the nose so there will be no visible scars and you will experience less discomfort. From there, Dr. Tehrani will reshape and customize your nose based on your goals and expectations. Dr. Tehrani will provide you with the facial aesthetic you are looking to achieve.
Rhinoplasty Recovery
Your nose changes in shape and structure throughout your life. While these natural changes are usually minimal, sometimes, just the slightest change can make a world of difference when it comes to something as distinct as your nose. 
A nose job is a custom-tailored surgery. This means that your individual results will vary based on your goals and anatomy.
Following surgery, you can expect your nose to be protected by various dressings during the healing process. You may need to alter the way you sleep for the first few weeks following rhinoplasty.4 Your head will need to be higher than your chest as you rest to minimize bleeding and swelling in your nose. 
Following your rhinoplasty, avoid physical activities, such as exercise. Also, you may not blow your nose or get the dressings on your nose wet. The skin under your eyes may become black-and-blue; this is a common occurrence for the two to three weeks immediately following surgery. You can expect swelling and bruising to subside within a few weeks. The swelling will be fully resolved within a year.
If you experience pain that is difficult to manage or any adverse effects after rhinoplasty, do not hesitate to reach out to Dr. Terhani.
FAQ
What are the risks of a rhinoplasty?
As with any procedure, there are risks associated with rhinoplasty. The risks that may present themselves vary from patient to patient, as there are a number of factors to consider. During your consultation with Dr. Tehrani, the risks, benefits, and details of rhinoplasty will be discussed with you.
How much does a nose job cost?
Your rhinoplasty will be custom tailored based on your needs and goals. Dr. Tehrani will outline a plan of action for your surgery. The cost of your procedure will reflect the variables involved in your surgery. Here at Tehrani Plastic Surgery, we want to make your rhinoplasty as affordable as it is attainable. To aid in this process, we are able to offer you several different financing options for your rhinoplasty. 
Can my nostrils be made smaller with rhinoplasty? 
Since rhinoplasty is a surgery to alter the shape and size of the nose, it may be possible to focus on making the nostrils more proportionate to the face. A private, one-on-one consultation with Dr. Tehrani will be needed to address your specific concerns and create a customized treatment plan for you.
Will I be able to breathe through my nose after a nose job?
Immediately following surgery, your nose may be packed with gauze or a "drip pad" will be taped under your nose to absorb any excess fluids. This will limit your ability to breathe from your nose for about 3-4 weeks after rhinoplasty surgery. This will not only be due to the gauze blocking your nose, but also any subsequent swelling from the procedure. Breathing through your mouth may be uncomfortable after some time, but Dr. Tehrani will be able to assist in identifying what will aid in keeping your mouth from drying out during the healing process.
What is the difference between an "open" and "closed" rhinoplasty?
In an open rhinoplasty, incisions are made outside of the nostrils; usually under the nose between the nostrils. An open procedure allows for greater visibility of the structure of your nose by allowing the skin to be lifted away from its position on top of the bone and cartilage of the nose.

In a closed rhinoplasty, the incisions are made inside of the nostrils, minimizing visibility of a resultant scar. A closed rhinoplasty is ideal for minor changes to the nose. This allows for more subtle changes that can drastically change the appearance of the nose. 

During your consultation, Dr. Tehrani will discuss his tailored approach for your rhinoplasty to achieve your aesthetic goals.
Additional Resources