VASER HI-DEF Liposuction
Consultations offered at our two convenient locations in La Jolla, CA and Apple Valley, CA
VASER Hi-Definition liposuction is a highly accurate body contouring treatment that reshapes the profile by removing unwanted fat. This minimally invasive procedure uses gentle ultrasound energy to break down fat and remove it through liposuction to reveal an aesthetically alluring body. Thanks to this innovative treatment, patients can get an extra push in the right direction when getting rid of stubborn body fat. VASER Hi-Def Liposuction can permanently eliminate fat that has failed to go away after leading a healthy lifestyle. Tehrani Plastic Surgery is proud to offer patients a wide assortment of treatments that will enhance the way they look. Schedule an informative consultation with Dr. Tehrani to make your aesthetic dreams come to fruition. We can also be reached at (760) 240-2444 for our La Jolla and Apple Valley, CA offices.
Before and After Photos
About
It's not uncommon to struggle with ridding the body of unwanted fat. Sadly, even the best efforts in the kitchen and the gym are not enough to achieve an ideal aesthetic. Advancements in cosmetic procedures have made body contouring treatments more effective and accurate than ever. VASER Hi-Def liposuction can precisely remove targeted areas of fat for patients needing help in achieving their desired body. This new generation of fat elimination targets stubborn fat deposits while allowing surgeons to carefully sculpt fat for the appearance of improved muscle definition. The energy used in this procedure makes fat easier to remove, and tightens skin, for a lean, trim appearance.
VASER is an acronym for Vibration Amplification of Sound Energy at Resonance. This finer, more precise fat removal process uses a tumescent fluid, ultrasound waves, and gentle suction power to remove fat. The fluid, a mixture of combination saline, epinephrine, and lidocaine, is injected to make fat removal much easier. Next, small incisions are made in the requested areas where the VASER probes are placed to deliver ultrasound waves to gently agitate the fat. Then, the cannula suctions up the unwanted fat. [1] In under two hours, patients can see better contours in the:
Abdomen
Flanks
Buttocks
Thighs
Arms
Benefits
A VASER Hi-Def treatment eliminates troublesome fat that has been resistant to regular exercise and healthy dieting. In the process, this procedure unveils an exciting new look with rippled abs, firmer pecs, and an optimized upper body. Here's what else you can look forward to:
A precise procedure that removes unwanted fat from targeted areas
A better profile for the abdomen, flanks, pectorals, buttocks, and more
A fast experience with minimal recovery time
A highly customized treatment that can sculpt multiple areas
Sleek, natural-looking, long-lasting contours
Candidates
Healthy men and women interested in toning their body and who haven't responded to diet and exercise are great candidates for VASER Hi-Def liposuction. Ideal candidates include:
Being in good overall health and within a reasonable body weight
Having an appropriate amount of fat for removal
Possessing good skin elasticity
Positive expectations of what VASER can do
A private consultation with Dr. Tehrani is the first step in realizing a toned beach body. Schedule your appointment at one of our offices in the Southern California area to learn the benefits of a VASER treatment.
Personal Consultation with Dr. Tehrani
Dr. Tehrani is a board-certified plastic surgeon who has years of experience in the medical field, and is committed to the pursuit of enhancing people's lives. He takes pride in knowing that every patient's needs are met. That is why we are known for our Body by Tehrani concept. Since 2015, we have provided patients with the most advanced body contouring procedures to complete transformations based on their specific needs. A VASER Hi-Def treatment embodies this philosophy perfectly, and all treatments are tailored to each individual.
About Your Consultation
Dr. Tehrani takes the time to understand your desired body aesthetic at your consultation. He'll examine the areas you want to be treated. After we develop your treatment plan, we'll break down the steps of a VASER treatment and explain how it will provide better contours for your body. Before you go, your treatment date will be scheduled, and a list of preliminary items to complete between now and your treatment. Dr. Tehrani recommends you complete them to ensure a smooth process.
Consult with us at any one of our offices located in La Jolla and Apple Valley, CA. Or kindly call (760) 240-2444 to reach a speak to a friendly team member. Patients unable to make it to the office can conduct a virtual consultation. You'll be asked to submit a few pieces of information. Once complete, one of our staff members will be in touch.
Preparation
Preparing for your VASER Hi-Def treatment is easy. Here is what you can do to facilitate a smooth recovery:
Do not smoke two weeks leading up to treatment to avoid complications during the procedure and refrain from smoking during your recovery.
Temporarily stop certain medications such as blood thinners, aspirin, or herbal supplements.
Designate someone to drive you home.
Procedure
Before your treatment begins, our staff will administer local anesthesia to maximize comfort. Dr. Tehrani starts the procedure by injecting tumescent fluid, a solution that contains saline, epinephrine, and lidocaine, into the treatment area. [2] This helps narrow blood vessels, engorge fat cells, and numb the area to make fat removal easier and to streamline both your surgery and post-surgical recovery.
Small incisions are made in the treatment areas so the VASER device can be inserted below the skin. A special cannula is inserted into the selected area and emits highly controlled ultrasound waves to agitate the tumescent fluid. The vibration, combined with the fluid, aids in breaking down the deposits of fat, making them easier to remove. Next, Dr. Tehrani uses the cannula to suction out the fat. [1][2] The process is repeated in each area you wish to improve until the desired effects are finalized. Your treatment is complete after Dr. Tehrani closes incisions with sutures. The duration of your treatment will vary based on the number of targeted areas. However, many patients are usually finished within two hours.
Recovery & Results
Minimal discomfort, swelling, and bruising in the treated areas will be felt for the first week. A compression garment will be given to you to maintain the results for two weeks. [1] During this time, make sure to take short, brisk walks to aid circulation and healing. Most patients feel comfortable going back to work after the first week of recovery. You can resume strenuous physical activity within four weeks.
You may see some immediate results right after surgery, with final results developing gradually over time. You'll notice a more athletic, sleeker appearance with a well-sculpted definition. Your results are yours to keep for many years to come because the fat cells do not regenerate. However, any remaining fat cells can expand. A healthy life filled with dieting and exercise can prolong your results.
Corresponding & Complementary Procedures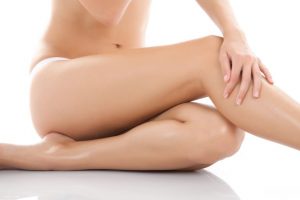 Body by Tehrani is our commitment to bringing patients closer to their desired bodies. We are pleased to offer many body contouring procedures. At your consultation, we may also recommend:
Liposuction
Liposuction is the traditional form of removing unwanted subcutaneous fat while reshaping the body to create your desired look. Unwanted fat in the face, neck, abdomen, arms, and thighs can be targeted. Small incisions, tumescent solution, general anesthesia, and a cannula are employed to gently remove fat to reveal a better profile for your designated area.
SlimLipo
SlimLipo is another form of liposuction that uses laser energy to melt fatty tissue before easily being suctioned out with a cannula. Not only does SmartLip remove fat, but the heat energy also helps to tighten skin and trigger collagen production. This treatment allows you to target the abdomen, hips, thighs, butt, arms, neck, and chin.
Tummy Tuck
Patients looking to concentrate on reshaping their abdomen can do so with a tummy tuck. This surgical operation creates a sculpted, flatter, taut appearance for the midsection by removing excess skin and fat. The abdominal wall is tightened to create a stronger core and more pleasing aesthetic for your body.
Cost
Your VASER Hi-Def treatment is unique, just like your body. Pricing for the treatment depends on a few factors that include the number of areas treated, the size of the treated area, and the inclusion of other treatments. An accurate quote will be given at your consultation with Dr. Tehrani. Our financial page has helpful information on your options to make your treatment attainable and suit your budget.
FAQ
How long do my results last?
Your results from a VASER Hi-Def Liposuction treatment are long-lasting. Dr. Tehrani highly recommends that patients maintain a healthy life to ensure their results last well into the future.
Can VASER help me lose weight?
VASER Hi-Def is not intended for weight loss. It is a body contouring treatment method meant to selectively reduce fat cells to craft better definition. We encourage patients currently losing weight to hold off on body contouring procedures until they have reached an optimal weight. 
How long does treatment take?
A VASER treatment may take up to two hours to perform. The time it takes correlates to the number of areas you wish to treat.
References
Hoyos, A. E., & Guarin, D. E. (2020). High-Definition Body Contouring Using VASER-Assisted Liposuction (O. Garcia Jr., Ed.). Springer Link; Springer International Publishing. https://link.springer.com/chapter/10.1007%2F978-3-030-26875-6_13
HOYOS, A., & MILLARD, J. (2007). VASER-assisted high-definition liposculpture. Aesthetic Surgery Journal, 27(6), 594–604. https://doi.org/10.1016/j.asj.2007.08.007