Using a neurotoxin to smooth the lines on our faces would have sounded like science fiction prior to 2002. That was the year Botox received FDA approval for treating wrinkles. But did you know that since then, it's also been used to treat migraine headaches, bladder control issues and even texting thumb?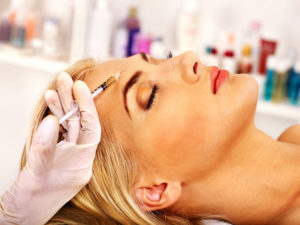 Botox is easily one of the best-known and most popular products in the country, and its uses as a head-to-toe problem solver only continue to grow. So in the name of education and curiosity both, here are some of the other ways Botox is, or will be, changing the way we look and feel:
The Eyes
A miniscule amount of Botox has been injected into the center of the lower lash line of the eye to create an appearance of widening and a more almond shape.
The Nose
Botox, sometimes combined with fillers, has been injected into the bottom of the septum to lift the tip of the nose. Botox can also make an upturned nose slope downward when injected into the nostrils.
The Mouth
A small amount of Botox can be injected around the upper lip, or into the band above the chin, so the top lip doesn't lift as high and wide when you smile, thus improving your smile with better gum-to-teeth ratio.
Acne
Botox is being used to reduce acne by shrinking the appearance of pores, up to 75 percent. Injections are given to paralyze the oil-producing sebaceous glands, mostly
in the T-zone.
As a Topical
Botox is being manufactured in a gel version, but can be applied only by a doctor.
For skin improvement
Botox treatments have been found to increase skin elasticity, causing it to appear more like the skin of younger people. Its use seems to encourage the body's own production of elastin and collagen, the proteins that make young skin firm and flexible.
If you're interested in our latest methods for refreshing and improving your appearance, call today to book your appointment at Tehrani Plastic Surgery.
760-240-2444.