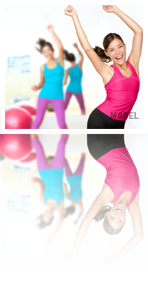 Although breast augmentation has become popular over the years, there are still groups of women who are quite hesitant to embrace breast implants as a way to improve the appearance and contours of their breast. Athletes and highly active women are one of these doubtful groups. Here at our  Victorville plastic surgery practice, we get a lot of questions from women who regularly engage in sports and physical activity about how breast implants could affect their performance. If you're one of these women, read on below!
For the most part, the following factors should be taken into consideration when deciding on breast implants for the highly-active woman:
Body frame and initial breast size – This factor is a top consideration given that each woman is unique. Women with smaller body frames are advised not to choose overly large implants as they could cause pain and discomfort, particularly while engaging in sports and physical activity.
Placement of implants  – Women who regularly engage in weight lifting exercises, golf and racquet sports may benefit from implants that are placed under the muscle (submuscular). Submuscular placement has been shown to interfere less with muscle activity.
Type of Implant -Breast implants can either be saline or silicone. If you're the type of woman who is naturally slim as a result of being athletic and sporty, silicone implants may be more appropriate. Silicone gels provide for a more natural feel and look, particularly if a woman has less muscle tissue and skin to cover the implant. 
Athletic Performance – Overly large implants may be a hindrance for swimmers and runners due to its added weight. A thorough consultation with Dr. Tehrani will help you determine surgical techniques and breast implant placement to help avoid compromise in performance with implants.
Breast Augmentation in Victorville
For more information on finding a highly experienced cosmetic surgeon in Victorville for your breast augmentation,  call today to book your appointment at the Tehrani Plastic Surgery clinic – where your comfort and convenience are considered priorities. Contact us at (760) 240-2444 or fill out this contact form. We look forward to your visit!