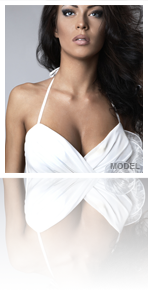 Aside from implant type and size, one of the most common breast augmentation concerns here at our Victorville breast implant practice is implant placement. Should you have it placed over or under the muscle? Although either placement is an excellent option, it all depends on your cosmetic goals, preferences, family history of breast cancer, and future plans of breastfeeding/childbirth. Let's find out below!
The Sub-muscular Placement (Under the Muscle)
By and large, placing implants under the muscle is recommended if:
you choose to have saline implants (to avoid rippling which is common in saline implants)
you only have a small amount of natural breast tissue
you have a family history of breast cancer 
Its advantages include the following:
Offers more support resulting in less sagging
Rippling and implant edges are less likely to happen or may not occur at all
More natural-looking
Reduced risk of capsular contracture
Mammogram and other imaging systems are easier to obtain
On the other hand, its drawbacks include:
Limitation on implant size
More difficult to place
More painful and longer recovery
Increased risk of  the implant "bottoming out"
The Sub-glandular Placement (Over the Muscle)
A subglandular placement is ideal if:
you choose to have silicone implants (does not require extensive tissue coverage for a good-looking shape)
you have great amounts of natural breast tissue
The advantages of an over-the-muscle placement are:
easier to place
sharply-defined cleavage
less painful and shorter recovery
larger implants could be used
no distortion when chest muscles are flexed (perfect for bodybuilders)
Disadvantages include the following:
implants may be more visible and palpable
increased chances of rippling when using saline implants
Increased chances of capsular contracture
Breast Augmentation in Victorville and Neighboring Areas
For more information on finding a highly experienced breast augmentation surgeon in Victorville, call today to book your appointment at the Tehrani Plastic Surgery clinic – where your comfort and convenience are considered priorities. Contact us at (760) 240-2444 or fill out this contact form. We look forward to your visit!