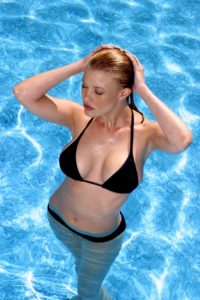 At Tehrani Plastic Surgery in beautiful Southern California, we seek to help men and women from the Palm Springs, Apple Valley, and Laguna Beach areas feel great about how they look. In recent years, a number of innovative solutions have been developed. This has enabled us to create customized treatment plans that revolve around the issue a patient has, as well as his or her preferences. Here, we will look at just a few of the common treatment options to refresh face and body.
Facial Rejuvenation
For many of us, the time eventually comes when we cannot ignore the signs of aging. The development of fine lines and wrinkles, furrowed brows, heavy eyelids, and a turkey neck all stem from biological changes. Specifically, the reduced amounts of collagen that are produced in dermal tissues. On top of the internal factors to aging, there are also lifestyle habits like smoking and unmanaged stress, and environmental factors like UV exposure and pollution to contend with.
Patients of Dr. Tehrani benefit from one on one care in comfortable offices staffed by friendly professionals. We offer surgical and non-surgical solutions to reverse the consequences of aging skin. These include brow, eyelid, and face lift procedures. Neck lift. Injectables, fat injections, and spa services to keep the skin glowing and smooth.
Body Rejuvenation
Like the face, the body changes with age. Fortunately, there are a number of procedures through which these changes can be minimized. Dr. Tehrani is an experienced cosmetic plastic surgeon who has performed a great number of body-enhancing procedures, including liposuction, abdominoplasty, and breast augmentation.
One of the recent advances in body contouring has been the development of fat transfer techniques. Harvesting fat from an area where it is not wanted, we can then process those cells and place them in a more suitable part of the body, such as the breasts or the cheeks, to enhance appearance naturally.
We are happy to take you on an exploration of your face and body treatment options. Call (760) 240-2444 to schedule a consultation in the office nearest to you.