Liposuction is one of the most popular plastic procedures out there, with some statistics putting it in the number one position. And the technology and outcomes from liposuction just keep getting better. But for all that you may think you already know, or may have heard, about lipo, there's a very slim chance you won't be excited to hear about this:
Discover the advantages of SlimLipo
This latest improvement on traditional liposuction is designed to reduce side effects and recovery time.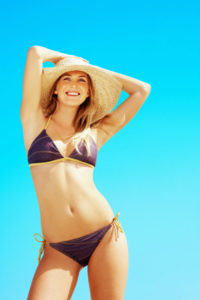 SlimLipo uses "wavelength" technology to liquefy your fat and tighten the skin in the treatment area. By reducing fat and skin laxity, the procedure can improve the appearance of your:
Chin
Neck
Arms
Pectorals
Buttocks
Stomach
Hips
Thighs
SlimLipo is less invasive, and much more
Patients report that they experience less pain and other side effects with this procedure as compared to standard liposuction. They also appreciate the smaller incisions, less bruising and less bleeding. And they say they are just as pleased with the results.
Enjoy the benefits SlimLipo can offer
• Can remove unwanted fat in precise, select problem areas
• Can tighten the skin in the select area
• Can give you smoother skin tone
• Can reduce skin irregularities and bumps
• Can minimize cellulite
Why patients love SlimLipo
The procedure is usually performed under a local anesthesia, so only the area being treated is "put to sleep" – another big reason the recovery time is shorter. In addition, since it is less aggressive than standard liposuction, there's simply less trauma to your body. SlimLipo can safely melt your unwanted fat without damaging the surrounding tissue.
SlimLipo and you
Our patients are busy people and they look for procedures that deliver the most noticeable results with the least amount of down time. If you are interested in reducing fat in problem areas of your body, you can expect less swelling, less bruising, less pain and faster healing time with SlimLipo.
Learn more about SlimLipo
Is there a great way to find out if this is the right procedure for you? Call for a consultation appointment today: 760-240-2444.