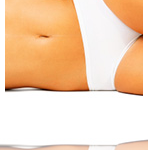 Liposuction of all types ranked second in the top 5 surgical cosmetic procedures for 2012.  While the figures should not come as a surprise at all, there are still a lot of women who think that liposuction is a very complicated procedure, requiring one to stay in the hospital for a long period of time. This is not entirely true. At Tehrani Plastic Surgery, you can actually get rid of your muffin top on your lunch break with an Inland Empire SlimLipo session.
SlimLipo at a Glance
Simply put, SlimLipo is less invasive than traditional liposuction techniques as it utilizes modern laser technologies. Smaller incisions are made hence lesser trauma to the body while it safely melts fat without damaging the surrounding area.
Ideal Candidates
Men and women who are relatively in good health and have tried both diet and exercise to rid themselves of fat are ideal candidates for SlimLipo. Also, one should have realistic expectations of the procedure's results and one should be able to adhere to pre and post-procedure instructions to ensure the best outcomes.
Target Areas
Apart from the traditional target areas of liposuction such as the waist, abdomen, hips, buttocks, and thighs, SlimLipo also works well with bodily areas that are difficult to reach — chin, back, ankles, knees, and upper arms.
Benefits of SlimLipo
With SlimLipo, there is no need for sutures as very minimal incisions are made. With little sutures, the possibility of bruising is minimal.

SlimLipo is highly versatile and can be used to treat hard-to-reach areas.

SlimLipo allows for the body to recover quickly due to being less invasive.
If you would like to learn more about Inland Empire SlimLipo, arrange a cosmetic consultation with us today! We will listen to your concerns, educate you about what is available for you, and make recommendations. Call today to book your appointment at Tehrani Plastic Surgery- where your comfort and convenience are considered priorities.  Contact us at (760) 240-2444 or fill out this contact form. We look forward to your visit!