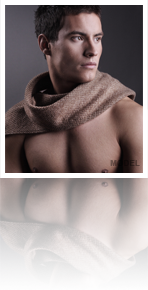 In 2012, there were roughly 21,000 male breast reduction procedures done, around a 5 percent increase from the previous year. While gynecomastia (abnormal enlargement of the male breasts) is not a serious medical condition, the shame and embarrassment that comes with the condition makes it more than just a cosmetic issue. During your Inland Empire male breast reduction consultation, Dr. Tehrani will thoroughly discuss your goals and desires concerning the surgery. Finding out the root cause of such enlargement is also part of the consultation.
So what really causes breast enlargement in men?
Causes of Male Breast Enlargement
In a majority of cases, the cause of gynecomastia is unknown. Most experts would say that it's a combination of factors — from diet to hormones to genetic influences. Gynecomastia in older males is thought to be caused by diminishing sex hormone levels while weight gain is thought to be the culprit amongst adolescent males with enlarged breasts.
Certain medical conditions could also cause male breast enlargement. These could include:
hyperthyroidism (the thyroid gland produces abnormally high thyroid hormones)

medical conditions which could interfere with testosterone production such as tumors/malignancies involving the testes, pituitary glands, adrenal glands

liver failure

kidney failure

malnutrition 
Certain medications could also cause male breast enlargement such as anti-androgens which are often used against prostate problems, anti-anxiety drugs, antibiotics, marijuana/heroin, anabolic steroids, anti-ulcer drugs, amphetamines, and anti-depressants.
Your Male Breast Reduction Consultation with Dr. Tehrani
If the aforementioned causes (drugs and certain medical conditions) are found out to be the cause of your gynecomastia, Dr. Tehrani would recommend that these underlying conditions be treated first or you may have to switch medications/finish drug therapy before having male breast reduction surgery.
To be an ideal candidate for male breast reduction, you should be in optimum physical and psychological health. Also, stable weight for the past 6 months and realistic expectations are a must. 
If you're thinking about male breast reduction, call today to book your appointment at Tehrani Plastic Surgery- where your comfort and convenience are considered priorities. Contact us at (760) 240-2444 or fill out this contact form. We look forward to your visit!