BBL's Body Contouring Renders Long-Lasting Results
The popular Brazillian Butt Lift (BBL) is sweeping the United States. Inspired by high fashion and celebrity culture, we are entering an era of beauty when trimmer waistlines and fuller hips are becoming the standard. What will you become?
Become the real you.
Dr. Tehrani's interest in the art of plastic surgery started at a very young age. He was exposed to the world of fine arts through his mother, who was a painter and a sculptress. She shaped aesthetic worlds as an interior architect. Tehrani Plastic Surgery can help you to contour your body's outer appearance in accordance with your desire. Inquire with us to see if you qualify for BBL in Southern California. Call (760) 240-2444.
How Long Does A Brazilian Butt Lift Last?
You will retain about 70% of the initial fat transfer during the lifetime of your BBL. Your butt will go through a few phases following the BBL procedure before finally stabilizing in shape and size at around ninety days. Though a Brazilian Butt Lift is considered semi-permanent, your BBL can last for decades![1] A patient's results are dependent upon how seriously they approach the recovery process.
Read our blog to learn more about our many confidence-boosting procedures at Tehrani Plastic Surgery.  
By some people's definition, Brazillian Butt Lift is a "semi-permanent procedure." The reason for this is simply because the nature of your fat is only semi-permanent. People gain and lose weight all the time as part of the natural ebb and flow of scarcity and abundance in every being's life. Similarly, your butt will change over time as it responds to the normal aging process. The integrity of your results shall depend on whether or not you gain or lose substantial amounts of weight after your surgery. For the best BBL results, maintain an active and healthy lifestyle without extreme changes in your weight.
Before and After Photos
Your Private Consultation With Dr. Tehrani
Dr. Ali Tehrani wants to help make your beauty shine through. The doctor is a firm believer of the principles of inner beauty, which is why he's made it his "great work" to make the unseen visible to all. As a regionally recognized, board-certified plastic surgeon, Dr. Tehrani is generous with both his knowledge and his time. He is involved with teaching surgeons worldwide through the Paul Chester Children's Hope Foundation, as well as many other philanthropic pursuits. 
Dr. Tehrani invites you to schedule a personal consultation at any of his Southern California offices in Apple Valley, Palm Springs and Laguna Beach. If you're traveling from out-of-town, consider our Plastic Surgery Concierge service. Inquire with us. Call (760) 240-2444. 
Can I Drive After a BBL?
You might want to avoid extended sitting sessions. Your rump will be tender. In fact, sitting directly on your butt is prohibited. However, you can sit in your car to drive with the help of your special BBL donut-shaped pillow. A BBL pillow is a small cushion that goes under your lower thigh area to take the pressure off of your buttocks area when sitting.[2] Using your BBL pillow will allow your butt to stay suspended in the air instead of pressing directly on your car seat. To sit in your car, first, place your BBL pillow on the front part of your seat, or the area closest to the steering wheel. Then, gently raise yourself into the car and sit, leaning your back fully against the back of the seat. Your lower thighs should be sitting on your BBL pillow, and your booty should be slightly raised to avoid excess pressure and weight on the area.
When Can I Wear Jeans After BBL?
Body contouring will inevitably lead to unexpected changes in the way your clothes fit. During your recovery, you will need to be mindful of how much or how little pressure you are applying to the surgery site. In general, you do not want your jeans to be tighter than your compression garment.[3] Dr. Tehrani recommends waiting six weeks before trying on those tight jeans. Be prepared for a mid-year refresh of your wardrobe! After your procedure heals, you will have an entirely new set of assets to show off. 
Buttock Implants vs. Fat Grafting
You can sidestep some of the pitfalls of BBL by cleverly combining the benefits of multiple procedures. The Brazillian Butt Lift, for instance, uses your own autologous fat to achieve all-natural results at your backside. Silicone butt implants, however, present a firmness that will not falter for many years.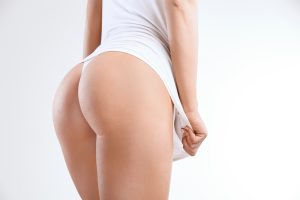 Buttock augmentation procedures have ballooned in popularity. Brazillian Butt Lift's natural enhancement is safe and long-lasting, thanks to the magic of fat grafting.[4] Buttock augmentation with implants, on the other hand, provides reliable and realistic results, even if you don't have enough donor tissue available for fat graft. Fat transfer to the buttocks is a combination operation that comes with the added benefits of our Liposuction body contouring procedure. We remove unwanted fat from troublesome areas like the belly, flanks and thighs, then we graft this fat directly to your derriere! However, there's no denying the eye-popping appeal that implants provide. The results of the augmentation are anything but subtle. 
What Does a Brazillian Butt Lift Cost in Palm Springs?
Dr. Tehrani will determine your prescribed treatment plan following a physical examination and a review of your medical history. Your personal consultation is when he will get his most holistic view of you as a patient. At such time, Dr. Tehrani will be able to quote you an accurate cost for BBL surgery. Prices may vary widely depending on the extent of your procedure. Anesthesia and facility fees can add cost as well.
It's impossible to put a price tag on happiness. Dr. Tehrani's many grateful patients would agree. Read their reviews as you consider your options. Also, watch our special page for seasonal deals. 
Become the Real You
BBL's body contouring renders long-lasting results. You can remove unwanted fat while you boost your backside with the right amount of augmentation. Fat grafting is a delicate art. It will take about two weeks for your graft to "take," so will you arrive at your sculpted, enduring results in an organic fashion. Your autologous fat tissue must rejoin your vital, vascular processes. Live your best life as a fully vibrant, fully realized work of art!
Become the real you with augmentation from your own autologous fat. Your caboose will be a show stopper!
FAQ
Can I do squats after BBL?
We do not recommend doing any strenuous workouts of the butt for at least the first three months of your recovery. This will allow the fat cells to be securely healed so they can properly "take" at the graft site. After a safe and sufficient amount of time has passed, in about four to six months, we absolutely encourage people to exercise. Start off slowly and build up to your max routine. Once there, building up your muscle could increase your buttocks size. In the case of the Brazilian Butt Lift, exercises like squats, lunges and calisthenics can actually build the butt muscle up and give you even better results.
Is Brazilian Butt Lift painful?
The BBL is not especially painful when compared to other body contouring procedures. Patients experience a moderate amount of discomfort while they rapidly recover, just like any other surgery. Soreness is probably the most commonly reported symptom during recovery. Patients describe this pain as a muscular soreness in the buttocks. They feel the most discomfort when sitting. The surgeon shall prescribe a pain management program as part of your aftercare instructions.
How should I lay down after BBL?
Keep your booty in the air! Your butt will be tender for the first couple of weeks of your recovery. Lying on your stomach is the best way to sleep while you heal. Side sleeping is also an option. Sleeping on your behind or back is ill-advised. Avoid sleeping on your back for at least two months. 
References