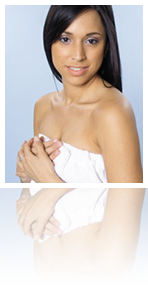 Here at our  Victorville cosmetic surgery practice, before-and-after-photos are an important tool we use to get you the results you want.  We don't just post photos in an online gallery, rather we also make sure you get to peruse through the photos during your initial consultation with Dr. Tehrani, a top Victorville plastic surgeon.
Online Gallery vs. Personal Consultation
Viewing before and after photos during your personal consultation is considered to be more effective than online galleries because Dr. Tehrani will be able to personally assess your anatomy and preferences, and consequently pick photographs of patients that have the same anatomy and aesthetic concerns as yours. 
What to Look for in Before and After Photographs
The following are the most important things to consider when reviewing before and after photos:
As mentioned earlier, find photos of previous patients who have the same anatomy as yours. Specifically, similarities in age, weight, height, gender, built, and ethnicity. You'll be able to build realistic expectations from such review.

Check for incision placements and scars in the "after" photos. Each type of surgery will leave a scar, but a good cosmetic surgeon, like Dr. Tehrani, will make it a point to make the scar as tiny and inconspicuous as possible. You might want to ask about how long after surgery the photos were taken. By and large, the scars would appear visibly red a few weeks post-procedure.

Check for symmetry. In breast augmentation, the breasts doesn't have to be perfectly symmetrical. However, a proficient surgeon should be able to balance both the look of your breasts, arms, thighs, hips, legs, cheeks and eyes.

Check for consistency in the photos such as same pose and lighting in both before and after photographs.
Newport Beach Plastic Surgery
For more information on finding a highly experienced cosmetic surgeon in Victorville, call today to book your appointment at the Tehrani Plastic Surgery clinic- where your comfort and convenience are considered priorities. Contact us at (760) 240-2444 or fill out this contact form. We look forward to your visit!